"Selfie: a photograph that one has taken of oneself, typically one taken with
a smartphone or webcam and uploaded to a social media website"
-Oxford Dictionary
5 August 2014, it's been so long for me to write something in English and actually I was in a dry-spell of writing 'Englishy'. So, what's the new trend right now? Owh, selfie. There's a song about it but the lyrics are babbling. To add more, festivals make selfie obviously unstoppable. Everyone is a supermodel, and everyone has its own right to glamorized their face in any position they want. And that's why the term 'selfie' is now available in Oxford
dictionary.
Along with selfie, the creation of sparrow face, duck face, all kinds of faces are the main part of selfie. I loved duck face, anyway.
This Eid Mubarak, I took one selfie only at the backseat and I never tried to add more because I think that, one is good enough. The rest of it, monopod selfie with sisters at the front yard. I was good in selfie before because I saw people did it and I want to try that. Now, I'm struggling to take my own picture because I don't see why I have to take it. Maybe, my selfie era is going to end. Perhaps, I'm not so good as I thought before. But one thing for sure, I'm good in group selfies.
Just a fact, do you know how selfie is so trendy nowadays? Actually, selfie was happened wayyy before it got famous. Let's check the earliest year of #Selfie...!
1. Selfie back in 1839
Mr. Robert Cornelius, the Philadelphia chemist
and photography fan. He was struggling to
take his own photo, as you know, camera back
there was a big buck machine.
2. Selfie in 1900
Grand Duchess Anastasia Nikolaevna
of Russia, did mirror selfie in 1914. She
was 13 years old at that time and
trembling while taking her own
picture.
The earliest mirror selfie by Edwardian woman.
The type of camera was Kodak Brownie box
camera and just saying, she's a bit booty.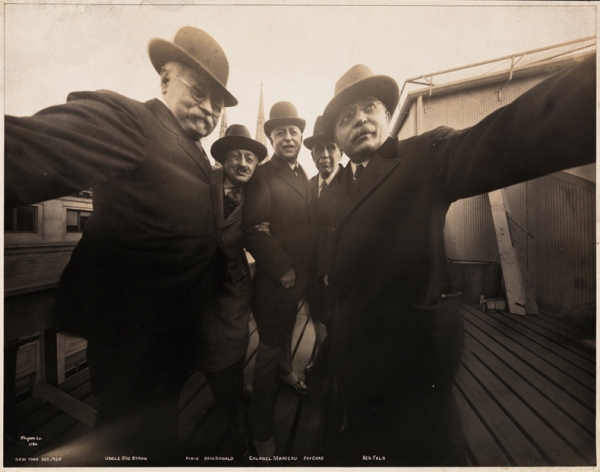 Five gentlemen working at Byron Company
took group selfies in Dec 192
0.
3. Selfie back in the early 60s
The Beatles's main singer, Paul McCartney
did mirror selfie.
Another mirror selfie by George Harrison (I guess)
from The Beatles.
Buzz Aldrin with his EVA selfie in 1966.
The universe and outer space
self-portrait, as I reckon.
4. Selfie in 90s
The comedy show, Mr. Bean. Most people
agreed that Mr. Bean popularized
the selfie sensation.
Basically, according to research, selfie is a mind disease. It can be a psychological problem if it's too much. The influences are so big, it helps to shape a person's behaviour, exposure, visibility and confidence. Selfie has contribute a good side to enhance attractiveness in one person through the exact face angle, although there's also a bad side of it such as privacy, sexuality or obscene purposes.
And now, monopod (arm stick) selfie is going viral all over the world.
ref: showbizgeek.com| en.wikipedia.org| facebook.com| businessinsider.com| huffingtonpost.com| blameinonthevoices.com